Gynae products PCD Franchise in Sikkim – Dr. D Pharma is one of the reputed names in the pharmaceutical sector in India as it provides high-quality products with ethical services. Being established in 1999, it is one of the elites providing medications in various therapeutic segments and also it has specialization in the Gynaecology range. The products we offer in this range are of the best quality and we aim to produce the best formulation for better healthcare for women. We are one of the reputed names in Sikkim and with the scarcity of Gynae range in Sikkim, we are thrilled to provide our services with top-notch products to the peoples with unique monopoly rights as we are the top Gynae Products PCD Franchise in Sikkim as we cover Pakyong, Rongli, Rangpo and Gangtok and much more.
Dr. D Pharma is an ISO 9001:2008 certified company with an extensive range of products in the repertoire. Our drugs include a wide variety of antibiotics, derma products, analgesics, nutraceuticals, anti-cold, and cough products, anti-infective products, and so on. To achieve the best possible performance, GMP GLP guidelines are followed and stringent QA/QC controls are implemented. Here, we promise the highest level of customer satisfaction. With more than 200+ products in high demand to our associates, we guarantee the best availability of products with fast delivery at their end.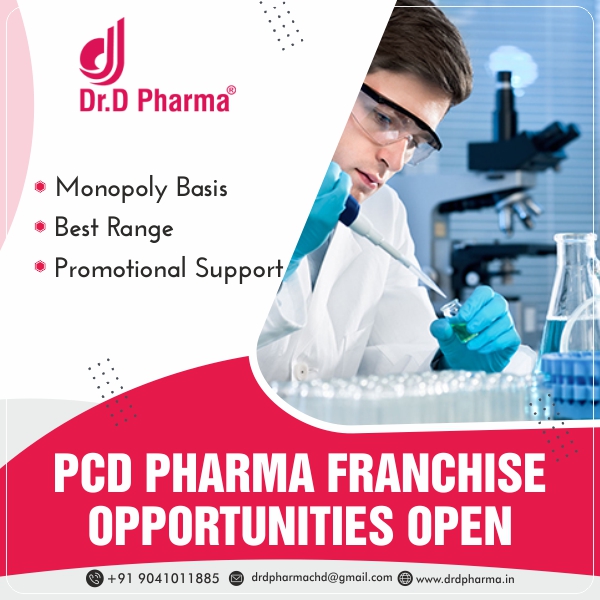 We are seeking pharma distributors, medical representatives, and sales and marketing executives for franchise businesses. As our reputation of being the best Gynae products PCD Franchise in Sikkim. For more info call us at:- +91 9041011885 otherwise mail us at:- drdpharmachd@gmail.com.
Top Gynae PCD Company in Sikkim – Dr. D Pharma
Gynae products have been in great demand since the last decade as due to the latest modern technologies pharma industries have been able to produce high-quality products to cure various gynae segments. Our company produces top-notch products to deal with various women-related problems such as infertility issues, gynecology, and sexual wellness. We make sure our products are efficacious so that women of our country believe in pharma and with that, it gives us a great sense of responsibility to make new formulation in the gynae segment and provide women with more reliable products.
With a team of skilled professionals and gynecologists, we are looking to be the top Gynae range in India as we have an extensive range of product lists in form of tablets, capsules, vaginal wash, dry syrups, injectables, ointments, etc. We are providing our associates with a variety as introducing new molecules to give them flexibility in the market as it will boost their marketing strategies and also it will help them to make numerous profits. With DCGI approved products on offer, we have our state of art manufacturing units that are accredited under WHO-GMP and we have the best infrastructural facilities to store our products in air-cooled spacious warehouses.
Areas of interest for Gynae PCD Franchise in Sikkim
 Sikkim is one of the major states in India and with a lack of gynae medicines in Sikkim, as our reputation of top Gynae range PCD Company in Sikkim we are aspiring people with franchise opportunities to make a name for themselves by providing them Monopoly PCD opportunities so that they can choose areas of their interest and can provide women with our specific product range. For us, customer satisfaction is the most important thing. Here are some of the vacant locations in Sikkim we are looking to provide Gynae based PCD Pharma Franchise.
| | | | |
| --- | --- | --- | --- |
| Pakyong | Soreng | Chungthang | Ravongla |
| Rongli | Yuksom | Dzongu | Jorethang |
| Rangpo | Gyalshing |  Kabi | Namchi |
| Gangtok | Dentam | Mangan | Yangyang |
Extensive Range of Products Dr. D Pharma offers in Gynaecology PCD Pharma Company
Our product speaks the volume of quality as having experience of over 20+ years we know the ups and downs of pharma business and we also know the expectations of the customers from us. With a product range of 500+ and 200+ specifically for women's health-related issues, we are providing the best formulations. With WHO-GMP units and our R&D team, we have made our formulations more efficient to use, and our drugs deal with a variety of issues such as infertility, irregular menstrual cycle, hormonal imbalance, breast cancer, vaginal fever, menopause, STDs, pregnancy, and so on.
Now let us have a glance at some of the products we offer for infertility and sexual wellness for women in our pharma franchise.
| | | |
| --- | --- | --- |
| Sr. No. | Brand Name | Composition |
| 1 | DCOFER-XT TAB. | FERROUS ASCORBATE 100MG+FOLIC ACID 1.5MG+ZINC SULPHATE 22.5MG (ALU-ALU) |
| 2 | DCOFER-XT TAB. | FERROUS ASCORBATE 100MG+FOLIC ACID 1.5MG+ZINC SULPHATE 22.5MG (ALU-ALU) |
| 3 | DLIC-DHA SOFTGEL CAP. | FOLIC ACID 200MCG+ DHA 200MG+ CYNOCOBALAMINE 1MCG SOFTGEL (BLISTER) |
| 4 | DPROGEST-200 SOFTGEL CAP. | NATURAL MICRONISED PROGESTERONE 200MG SOFTGEL (BLISTER) |
| 5 | DPROGEST-300 SOFTGEL CAP. | NATURAL MICRONISED PROGESTERONE 300MG SOFTGEL (BLISTER) |
| 6 | DR. TONE SYRUP 200ML | GLUTAMIC ACID WITH B-COMPLEX & ZINC |
| 7 | WASH-D 100ML | UNIQUE PH BLANAE FORMULA ( VAGINAL WASH) |
So, if you want to invest in the Gynae PCD Franchise business then join as we are one of the top gynae pharma company in Sikkim and with the top-notch quality we provide in this range and with the scope of gynae products business in the next 5-10 years, it is evident to have huge profits in this business. So choose us and enjoy fruitful opportunities with us.
Contact Information:-
Name:- Dr. D Pharma
Contact No:- +91 90410-11885
E-Mail:- drdpharmachd@gmail.com