Nutraceutical Products PCD Franchise in Madhya Pradesh – With the increasing demands of pharma products in India in every segment, it allows business investors to make huge profits and help them to ensure long-term business. In that very segment Nutraceutical segments is one of the demanded sectors in pharmaceutical as people are getting more aware about their health and nutrition and most of the patients are known to pharma products, so they want to buy high quality and efficacious products which make it a top priority for any pharma company to do more research and upgrade their products to produce more results. Dr. D Pharma is one of the top Pharma companies in India as It covers the best nutraceutical range.
Dr. D Pharma is an ISO 9001:2008 certified company with the best state of art manufacturing facilities accredited under WHO-GMP. Our nutraceutical product range has been licensed and certified by FSSAI & DCGI which makes it completely safe and reliable to patients as we are providing various nutrients which patients needed when they are not getting proper nutrients from food. With our increasing reputation in Madhya Pradesh, we are one of the fastest rising Nutraceutical Products PCD Franchise in Madhya Pradesh as we cover Katni, Bhind, Raisen, Rajgarh, and much more. Our company is inviting individuals from the state to join with us and help us reach our products to reach at vacant locations so that our products can be available to the majority of people.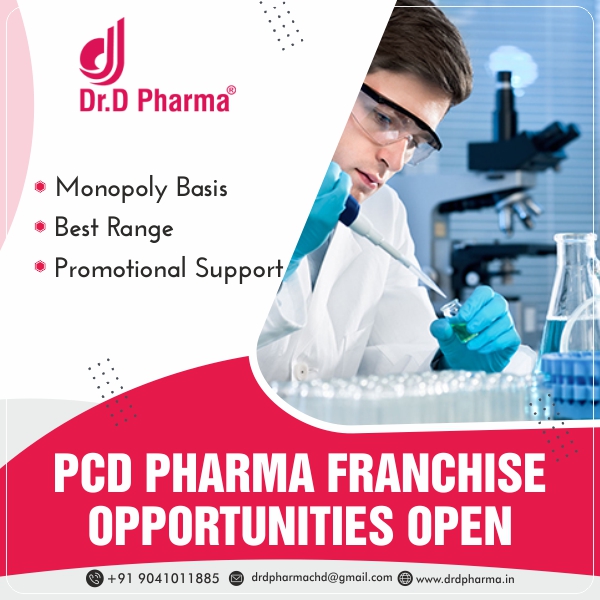 Our company is looking for pharma professionals and individuals who have some experience in the sales and marketing department. Don't wait for opportunities to come as we are one of the reputed Nutraceutical Products PCD Franchises in Madhya Pradesh. For more information call us at +91-9041011885 otherwise mail us at- drdpharmachd@gmail.com.
Top Nutraceutical PCD Company in Madhya Pradesh- Dr. D Pharma
Dr. D Pharma is one of the top companies in India as its name is one of the most profound names in the medical industry. We are an experienced firm as we have our 25 years of experience and we are one of the top manufacturers of Nutraceutical products as we understand the requirements of our customers and that is what makes us different from other companies. We are a team of professional campaigners who have upheld high experience and knowledge in the pharma industry. We have accompanied the best doctors, chemists, technicians, quality control engineers, and sales and marketing executives. We have a wide range of products in our company as we have over 800+ products in our company with our association with over 750+ partners across PAN India
We are an associate-oriented company as we keep our associates happy with providing them with the best services as incentives so that it can boost their minds to do business with a free mind and better environment. With world-class infrastructural facilities with huge storage capacity for our products as we keep proper quality control management with the best team of quality control engineers which keep track of quality at every stage from production to packaging of the products to dispatching.
Areas of interest that we target for PCD Franchise in Madhya Pradesh
Madhya Pradesh is one of the most important states of India as it has a huge contribution to our GDP and also it is termed as one of the highly developed states in our country. It is also one of the biggest industrial hubs in India which give individuals to present with more pharma business opportunities and Dr. D Pharma is looking to give people with Pharma franchise business opportunities to work with an extensive range of our products and they can choose an area of their own interest and can start their PCD company there.
Now let us showcase our area of interest where we are looking to provide Nutraceuticals PCD Franchise in Madhya Pradesh
| | | | | |
| --- | --- | --- | --- | --- |
| Agar Malwa | Chhatarpur | Hoshangabad | Narsinghpur | Shahdol |
| Alirajpur | Chhindwara | Indore | Neemuch | Shajapur |
| Anuppur | Damoh | Jabalpur | Panna | Sheopur |
| Ashoknagar | Datia | Jhabua | Raisen | Shivpuri |
| Balaghat | Dewas | Katni | Rajgarh | Sidhi |
| Barwani | Dhar | Khandwa | Ratlam | Singrauli |
| Betul | Dindori | Khargone | Sagar | Tikamgarh |
| Bhind | Guna | Mandla | Satna | Ujjain |
| Bhopal | Gwalior | Mandsaur | Sehore | Umaria |
| Burhanpur | Harda | Morena | Seoni | Vidisha |
Extensive Range of our Nutraceutical Products in Madhya Pradesh
We are one of the best companies in India when it comes to nutraceutical products and the range we have in this sector is unmatched. Now let us have a glance at our range of nutraceutical products with some product glimpse.
| | | |
| --- | --- | --- |
| Sr. No. | Brand Name | Composition |
| 1 | DCALCIUM TAB. | CALCIUM CARBONATE 1250MG + VIT..D3 250 I.U. (BLISTER) |
| 2 | DCALCIUM-PLUS TAB. | CALCIUM CITRATE 1000MG + MAGNESIUM 100MG. + ZINC 4MG + VITAMIN D3 200IU (BLISTER) |
| 3 | DCART TAB. | L-CARTININE, L-ASPARATE & PENCARNITINE (ALU-ALU) |
| 4 | DCOL D3 | CHOLECALCIFEROL-60,000 I.U SOFTGEL (BLISTER) |
| 5 | DCOL PLUS SOFTGEL CAP. | CALCITRIOL -0.25MCG, CALCIUMCARBONATE (EQ. TO ELEMENTAL CALCIUM 200MG)-500MG, ZINC-7.5MG, SOFTGEL (BLISTER) |
| 6 | DCOL-K2+ SOFTGEL CAP. | CALCITRIOL+CALCIUM CARBONATE+VITAMIN K27+METHYLCOBALAMINE+ZINC+MG+L-METHYL FOLATE SOFTGEL (BLISTER) |
| 7 | DMEGA SOFTGEL CAP. | OMEGA-3,6,9 (BLISTER) |
| 8 | DPROTIC CAP. | PRE & PRO BIOTIC (ALU-ALU) |
| 9 | DVIT-9G SOGTGEL CAP. | 9G SOFTGEL (BLISTER) |
| 10 | IXNOVIT SOFTGEL CAP. | MULTIVITAMIN , MULTIMINERAL & ANTIOXIDANT SOFTGEL (BLISTER) |
Do not worry about our product range as we are one of the leading Nutraceutical PCD Company in Madhya Pradesh and being our partner will only benefit you with higher unimaginable profits.
Contact Information:-
Name:- Dr. D Pharma
Contact No:- +91-9041011885
E-Mail:- drdpharmachd@gmail.com