Pharma PCD Franchise Opportunity in Tripura – Nowadays, the pharma industry is witnessing the increasing demand of quality pharma products. Therefore, many masses are seeking to get better health treatment through quality pharmaceuticals. Dr D Pharma is a well known pharma franchise company that has been curing various illnesses in the society. Now we are offering the Pharma PCD Franchise Opportunity in Tripura for those who have been seeking their career in the pharma industry. We work as per the norms set by WHO and GMP standards to maintain the higher standard of the company in the market.
Dr D Pharma is a well-known pharma franchise company that has an ISO certification and operates franchises in various parts of the nation. Our Pharma PCD Franchise Opportunity in Tripura comes with abundant benefits as well as product ranges tablets, capsules, injectables, syrups and powder. The company is offering a wide range of pharma products which are DCGI and FSSAI approved and also offer abundant benefits such as monopoly rights, incentives, promotional tools and many more for the high growth of the franchise business.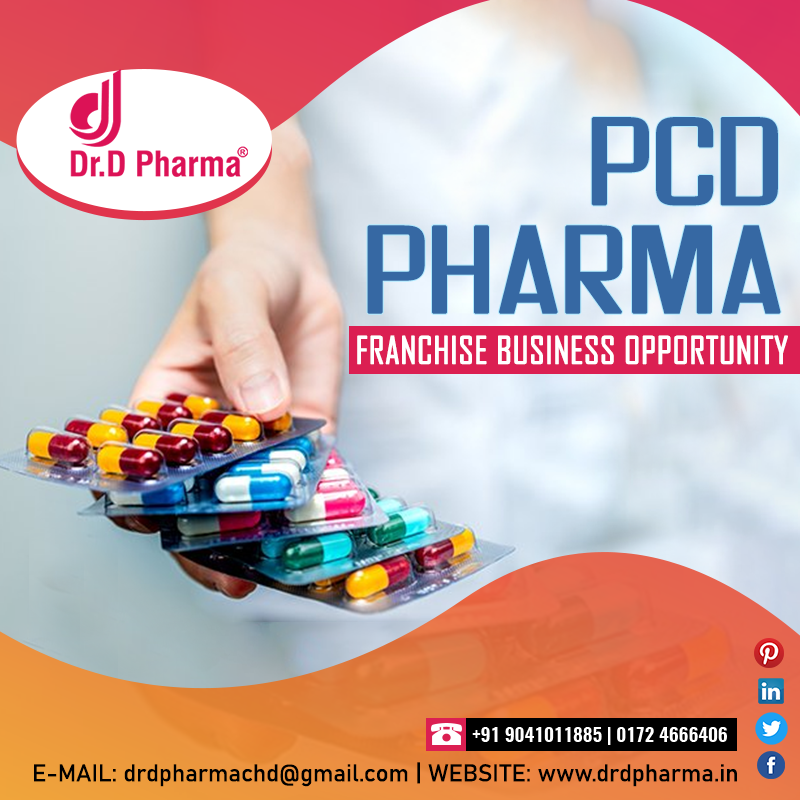 We are offering a wide range of quality pharma products for the Pharma PCD Franchise Opportunity in Tripura. Call us at +91 9041011885 or drdpharmachd@gmail.com.
Get Best Deals Of PCD Pharma Franchise In Tripura
Dr D Pharma is a top pharma company in Tripura that has been working for the well being of society. We are amongst the top pharma companies that are highly proficient in cardiac, diabetic, neuro, Nutra, gynae and many others. The company has been witnessing a high volume of requests for quality pharma products through franchise services. Moreover, our staff is working tirelessly to fulfil the demand of every individual in terms of effective medicines. But from where we are getting these products, then the whole credit goes to the unit which manufactures the quality products.
Here are some of the features of our company
The unit is well equipped with hi-tech machinery and other tools.
All devices are being lubricated and serviced for quality manufacturing.
We believe in transparency that makes our company a trustable name in the market.
We deliver the products in a given time since we have an exceptional logistics team.
Dr D Pharma is proficient in the pharmaceutical field and has well experience.
A Diverse Selection Of Quality Pharma Products
Diabetes, gynaecology, ophthalmology, neurology, heart disease, and a variety of other health conditions are on the rise. By keeping these emerging concerns in mind, we are focusing on making our products more effective. We wish to eradicate all illnesses from our society. As a result, all products are produced under the supervision of a well-managed supply chain. At each stage, our quality control team inspects the products for quality, and our packing team packs the products precisely to avoid any damage to the products.
Here are some of the product ranges in which we deal
Derma
Sachet
Liquids
Ayurvedic
Metabolism
Antibiotic
Injectables
Energy Drink
Pain Killer Gel
Pediatric Range
Dental Product, etc.
Beneficial Pharma Business For Our Franchise Holders
Dr D Pharma has opened its doors to people interested in pursuing a career as a pharma entrepreneur via Pharma PCD Franchise Opportunity in Tripura. This forms a foundation of the career as we assist our clients' businesses in all aspects, from providing quality pharma products to providing quality pharma services. At this time, we are offering a variety of perks that will assist the customer in moving their business to the next level. We have designated customer service representatives for our franchise holders, who are available at all times and can provide reliable information about our products. Here are some of the advantages of acquiring a PCD Pharma Franchise in Tripura.
Visual aid- It contains the most recent product information as well as appealing images that entice buyers. It is also employed in marketing.
Logistics- We offer superior logistics services to our clients in order for them to get timely orders of their products and satisfy market demand on time.
Exclusive rights- Monopoly based Pharma PCD Franchise Opportunity in Tripura enables our clients to become exclusive proprietors of our organisation in a certain area.
Marketing methods- Our sales staff supports our clients with the most recent and innovative marketing tactics, allowing them to dominate the market by establishing themselves well.
Where To Start A Pharma Franchise Business In Tripura?
It might be tough for customers to decide on a place or which area is ideal for them; we assist our clients in deciding on the best region. Now, our experts have examined the locations where the best quality medications are in great demand, yet people are unable to access them due to a lack of supply. Through Pharma PCD Franchise Opportunity in Tripura, we are bringing our products to small and large locations. Based on this condition, our professionals studied the ground level and determined the areas in Tripura where we are providing PCD Pharma Franchise.
Areas where we are offering the Pharma Franchise in Tripura
Dhalai
Gomati
Khowai
North Tripura
Sepahijala
South Tripura
Unakoti
West Tripura
Being the best pharma franchise company in Tripura we are looking forward to working with pharma professionals who are having new and innovative ideas.
Contact Us Now;
Name: – Dr. D Pharma
Contact No: – +91 90410-11885
E-Mail:- drdpharmachd@gmail.com
Address:- Village Bhatoli Khurd, Officer Colony, Opposite Birla Texttile, Sector 5, Baddi, Himachal Pradesh 173205