Pharma PCD Franchise Business Opportunity in Chhattisgarh – Dr. D Pharma, India's largest pharmaceutical firm, is on a mission to give the people of Chhattisgarh a brighter tomorrow. According to a survey, medical healthcare conditions in rural parts of Chhattisgarh have been judged to be poor. In the cities of Chhattisgarh, OTC medicines, antiviral medicines, anti-allergic, anti-cold medicines, cardio diabetes drugs, and a variety of other medications are in high demand. To satisfy the need for drugs, Dr. D Pharma provides the best opportunity of PCD Pharma Franchise Business in Chhattisgarh.
Dr. D Pharma is a group of medical professionals who are highly qualified, experienced, and talented. They all put in a lot of effort and dedicate themselves to developing the highest quality pharmaceuticals for the people of Chhattisgarh, India. In addition, in the Dr. D Pharma manufacturing facilities, all medications are created in accordance with worldwide GMP and WHO standards. We also have a lot of experience creating DCGI-approved items. As a result, we rely on leading Pharma PCD Franchise Business Opportunity in Chhattisgarh.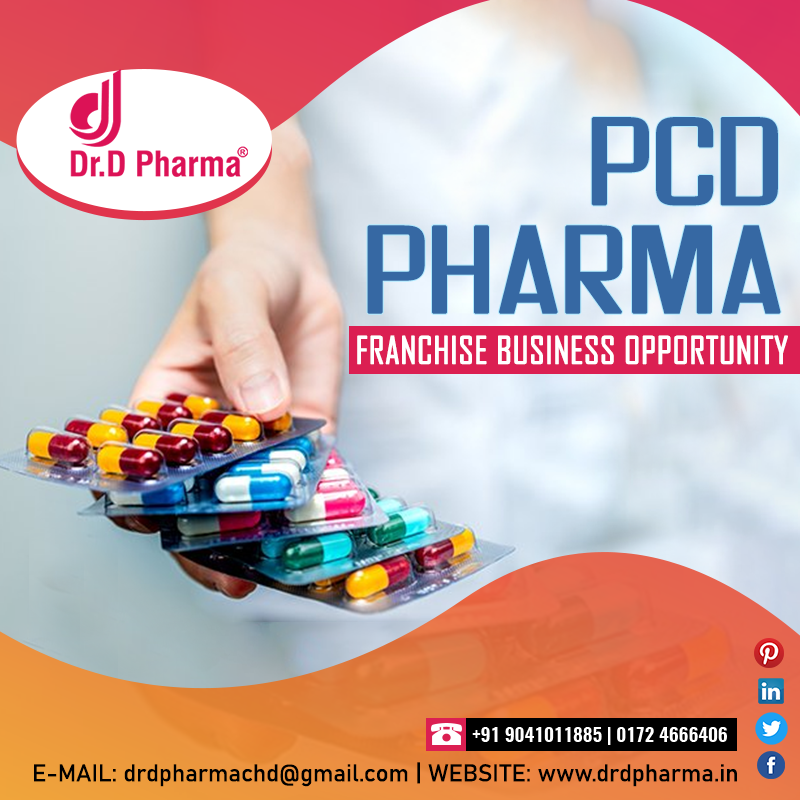 We are welcoming experts and newbies who are interested in either deepening their roots in the pharma franchise business or looking for a PCD Pharma Franchise in Chhattisgarh to attend. Contact us at +91 9041011885 or drdpharmachd@gmail.com to learn more about our franchise opportunities. We are always delighted to help you at Dr. D Pharma.
Benefits of Investing in PCD Franchise Business in Chhattisgarh
Dr. D Pharma is a well-known brand in the pharmaceutical industry. The top PCD Pharma Franchise in Chhattisgarh operates with complete transparency in all aspects of its operations and believes that mutual progress leads to great business. Apart from its high-quality product line, the company gives excellent assistance to all of its Indian partners and keeps them up to date on the newest developments and innovations in the pharmaceutical industry. Here are some additional benefits of becoming a Pharma Franchise partner:
Get the advantages of good incentives when you reach your annual goals.
For the smooth manufacturing of the items, we have employed professionals.
The organization will supply you with the greatest possible assistance in order for you to get off to a solid start.
We work in a clean and sterilized environment that is free of contaminants.
The entire manufacturing is done in an excise-free zone.
We have our own manufacturing facility and warehousing.
All products will be delivered on time and in an appealing packaging.
These are the benefits that the company will deliver to its Franchise partners that help them to set up their business in their selected areas of Chhattisgarh with minimum investment.
Our Drug Ranges are Approved by the Drugs Controller General of India
Dr. D Pharma is a well reputed company for Pharma PCD Franchise Business Opportunity in Chhattisgarh that is always growing and changing. We have been focused on making our medicine range better and better with the goal of providing high-quality and effective medicine to everyone. We have a quality assurance staff to help us with this. This group keeps a close eye on every step of the pharmaceutical production process. Because the corporation is so concerned with quality, each drug must be approved by the Drug Controller General of India.
Our product line is extensive. For our PCD Pharma Franchise in Chhattisgarh, we deal in the following pharmaceutical categories:
Injectables
Liquids
Metabolism
musculoskeletal Products (Painkiller)
Nervous System Products
Nutraceutical Product
Pain Killer Gel
Pediatric Range
Protein Powder
Sachet
Derma
Alimentary Products (Gastrology)
Antibiotic
Anticold & Anti Allergic & Anti Fungal
Ayurvedic
Dental Product
Energy Drink
Gynecology Products
Vacant Areas of Chhattisgarh to Start a PCD Franchise Business
Dr. D Pharma is offering pharma professionals, medical representatives, pharma distributors, and wholesalers this once-in-a-lifetime opportunity to launch their own enterprises. Our firm is serving its PCD Franchise business opportunity in Chhattisgarh, with monopoly rights that will allow our associates to build the business in their own territory. We have franchises available in all districts; below are some of our target sites in Chhattisgarh for the Pharma PCD Franchise:
Kanker
Narayanpur.
Kondagaon.
Jagdalpur
Dantewada
Bijapur.
Sukma.
Raipur
Dr. D Pharma is filling all of Chhattisgarh's open positions. All of our colleagues are given exclusive distributorship and monopoly rights by our company. This will help them compete more effectively and increase sales in their region.
Marketing Support Offered for Pharma PCD Franchise Business Opportunity in Chhattisgarh
As previously stated, the organization will assist you in promoting and marketing your PCD Pharma Franchise in Chhattisgarh. You may effortlessly expand your consumer base and progressively raise your company's sales with the greatest marketing support provided by us. The firm offers a monthly promotional campaign that includes the following items that can assist you in obtaining further funds.
Marketing tools we offer are:
MR Bags
Visiting Cards
Visual Aids
Writing Pads and Diaries
Reminder Cards
Small Gift Articles
Brochures and Product Cards, etc.
Contact Information:-
Name: – Dr. D Pharma
Contact No: – +91 90410-11885
E-Mail:- drdpharmachd@gmail.com
Address:- Village Bhatoli Khurd, Officer Colony, Opposite Birla Texttile, Sector 5, Baddi, Himachal Pradesh 173205